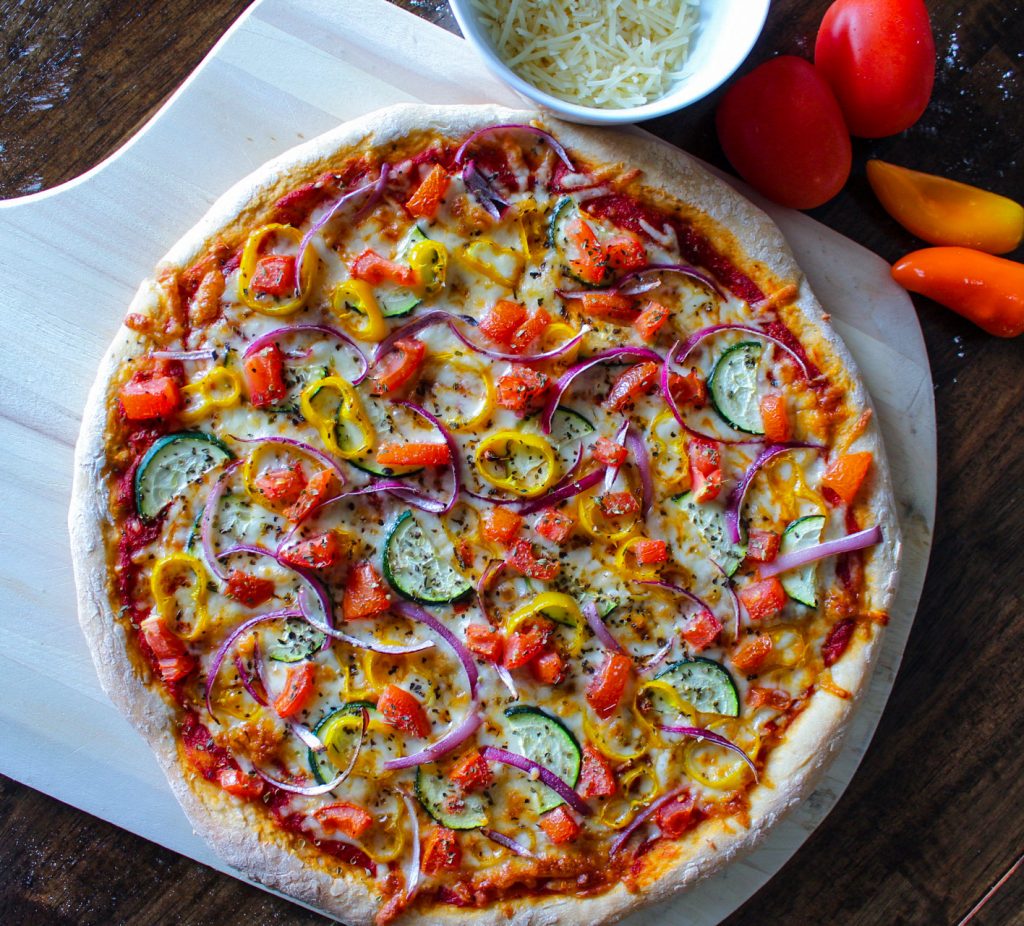 This is my family's favorite pizza crust we make almost weekly. Prep time is fast and you only need to let this rest for 10 minutes before baking it with your favorite toppings. (Adapted from Forks Over Knives oil-free pizza crust.)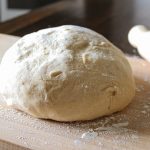 Print Recipe
Quick Pizza Crust (Oil-free)
Ingredients
4

cups

flour (plus more for dusting)

all-purpose, whole wheat, or a combination

1

packet

instant yeast (2¼ tsp)

1/2

tbsp

sugar

1

tsp

salt

1½ – 1¾

cup

warm water (110 -120°F)

favorite pizza toppings
Instructions
Combine flour, instant yeast, sugar, and salt in a stand mixer (fitted with a dough hook) or in a large mixing bowl. Turn mixer on low (if using) or combine ingredients with a wooden spoon.

Add 1½ cups of the warm water to the flour mixture. Mix on low (or with a wooden spoon) until it comes together and a soft ball of dough forms. If it doesn't come together (too dry), add the rest of the warm water a tablespoon at a time. If it's too wet (sticky), incorporate extra flour a tablespoon at a time into the dough. Knead in mixer or by hand for 1 to 2 minutes.

Place ball of dough in a mixing bowl dusted with flour to prevent sticking. Cover and let rest for at least 10 minutes or longer. Meanwhile preheat oven to 425°F.

Grease two pizza pans and set aside. Divide pizza dough in half. Roll out pizza dough one at a time on a floured surface. Place on greased pizza pans.

Add your favorite toppings to the pizza crusts. Bake in preheated oven for 12-14 minutes. (For best results, I bake mine one at a time.) Check bottom of crust and toppings until they are done to your preference.

**For a crispier crust, carefully transfer the pizza directly to the oven rack (only after it's been baking for at least 12 minutes) and bake another 2 minutes. If the toppings need much longer, do not transfer to oven rack until they are almost done.
Notes
If using whole wheat flour, look for white whole wheat for a milder flavor. 
I typically use equal parts all-purpose and whole wheat for a healthier crust. However, all-purpose produces the tastiest crust. 
Whole wheat flour will usually require more warm water to be added to the mixing bowl to help bring the dough together into a ball. Keep adding water a tablespoon at a time as needed.
For a crispier crust, transfer the pizza directly to the oven rack after it's been cooking for some time and is well set. (Usually after the first 12-14 minutes.) Be careful if you try this, and make sure the bottom is not still raw as it could droop through the oven rack.
Nutrition Information: Recipe yields: 2 crusts (8 slices per pizza), Serving size: 1 slice (crust only), Calories: 111, Carbohydrates: 22g, Protein: 4g, Fat: 0.5g, Saturated Fat: 0g, Fiber: 1.5g, Sugar: 0.38g, Cholesterol: 0mg, Sodium: 147.5mg 
**Please note: These nutrition facts are provided as an estimate and may vary depending on your ingredients. Check product labels or use an online calculator for additional accuracy.