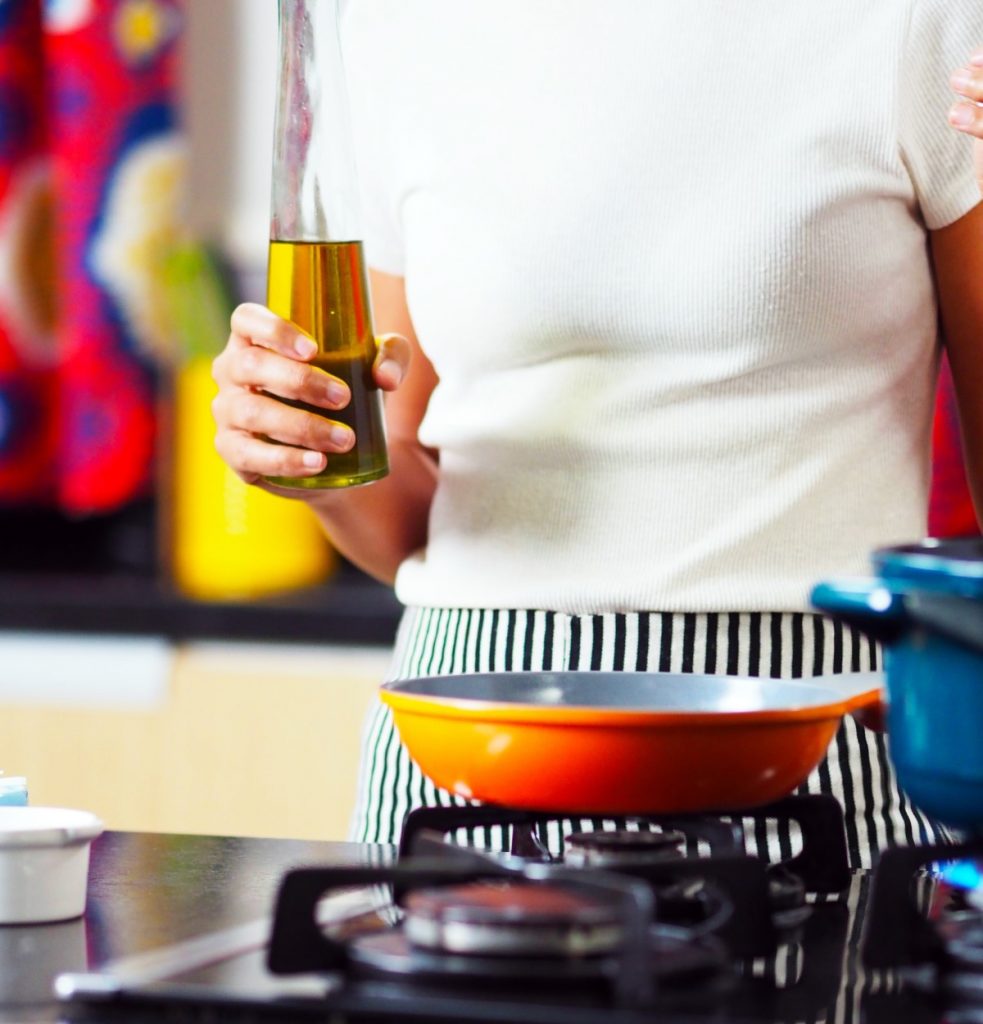 Admittedly, I had no idea it was possible to cook without first adding a layer of oil to my pans. Not without a high quality non-stick surface anyway. However, after learning it could be done and testing it, I've successfully been cooking oil-free for a few months now.
So why cook without oil?
Let's put aside the fact that not all cooking oils are created equal and focus on only the so-called good ones, such as olive oil, avocado oil, and even coconut oil.
While these are marketed as good fats that should be included in a healthy diet, they can quickly add a significant amount of unnecessary calories to our diet.
A single serving of one tablespoon of extra virgin olive oil alone yields 119 calories and 13.5 grams of fat. Avocado and coconut oil have nearly the same. 1
Let us consider that these are mostly empty calories with no actual nutritional value. While some may argue their importance in the role of essential fatty acids, a majority of the "good" fatty acids in olive oil are omega-6. Hardly lacking in the standard American diet. 2
Let's also consider the quality of the so-called healthy oils we use. There is a good chance that the extra-virgin olive oil we are purchasing in store may not in fact be the real deal. Studies have shown that many olive oils that claim to be "extra-virgin" may actually be a mix of cheaper varieties. This may affect half or more of the oils you find on store shelves in the U.S. alone. 3
Another quality issue is the oxidation of the oils during processing and shipping. Oxidation involves the exposure to oxygen, light, heat, and water. Some oxidation is inevitable, but many factors may speed or slow down the process.
How it is stored or how long it is exposed to air (during processing and at home) can affect how quickly an oil can go rancid. Rancidity can create toxic compounds that have been linked to health issues such as cancer or heart disease. 4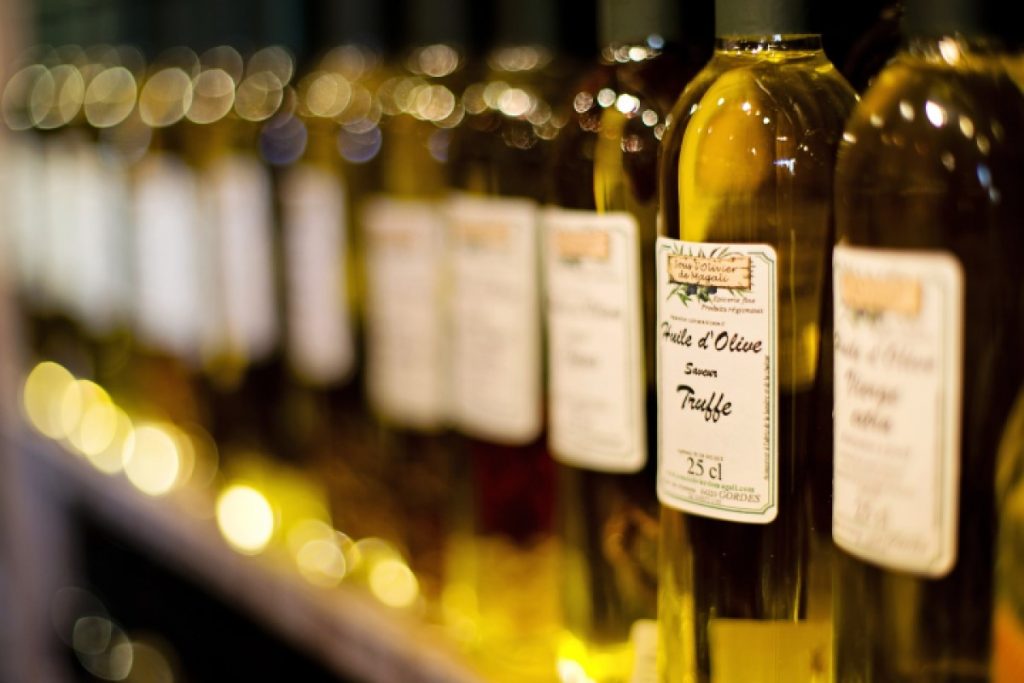 Having said all of that, I do strongly believe in freedom when it comes to food and dieting. Having a bit of olive oil over your salad is not going to make you gain weight. Cooking with any oil will not either. No food will make you gain weight in and of itself. The rules of calorie consumption and expenditure still apply.
However, when your interest lies in losing weight, cutting out or limiting oil in all forms will help keep your total calorie intake in check. There are plenty of other sources of whole healthy foods that can give you the same benefits as the "good" oils, plus provide you with vital nutrients that oil unfortunately lacks.
How to Cook Without Using Oil
Cooking without oil is easier than you might imagine. In fact, after you've tried this a few times you'll wonder why it ever seemed so impossible in the first place, and why it isn't more widely discussed as a viable measure for reducing calories.
Actually it is entirely possible to saute or bake most things without it. Even in a stainless steel pot or pan.
Sauté over stove top
Most things can be cooked easily on your stove top without oil or butter. Various types of pans such as stainless steel, ceramic, non-stick, or cast iron are all good options.
For Onions:
Add chopped onion to a preheated pan and sauté. Wait until the onions begin to brown and stick, then add a tiny bit (start with a tablespoon) of any type of broth, water, or sauce to the onions and deglaze the pan.
For Other Veggies:
Add veggies to a preheated pan and sauté stirring occasionally until soft. In most cases the veggies will produce enough of their own liquid to keep them from sticking to the pan. If you notice sticking, add a bit of broth or water to the pan and stir them around. Once softened, add in your other ingredients or sauce.
Broil or roast in the oven
Most anything can be cooked in the oven without oil or grease. Use parchment paper or a non-stick silicone baking mat or liner to keep foods from sticking to baking pans or casserole dishes.
For Roasted Veggies:
Prep vegetables and toss or sprinkle with your favorite seasonings. This can be whatever you'd normally use, just without the oil. Spread veggies out in single layer on a baking sheet lined with parchment paper or a non-stick silicone baking mat. Bake as usual checking occasionally until you reach the level of browning desired. It may take a couple times of trying it to perfect the baking time as certain root veggies may take a bit longer than usual.
For Meats:
Same method applies as for veggies. Prep and sprinkle with seasoning or brush with sauce. Place on baking pan lined with parchment paper or silicone baking mat. Check periodically as baking times may vary.
Alternatives for oils (fats) in salad dressings and sauces:
Dressings can quickly be made at home with fresh whole ingredients, cutting down on unnecessary additives and preservatives. Try these healthier olive oil swaps in your next dressing recipe: Greek yogurt, Dijon mustard, tahini, avocado, nut butter, or puréed fruit.
While I realize a few of these alternatives are still on the higher side for calories, they also pack a punch of nutrients that oils do not.
Most sauces can also be prepared without the use of oil. There are loads of recipes around the web that are oil-free and delicious. Here is a great list of 18 Oil-Free Dressings and Sauces from Plant-Based Dietitian.
Another good source for all things plant-based and oil-free is over at Forks Over Knives, based on the famous documentary. They have a comprehensive list of recipes with an entire section of Condiments & Sauces to try.
Baking without Oil
Fruit purée can be used to substitute oil in baked goods. Unsweetened applesauce, pears, mashed banana, and puréed dates are popular options. Try experimenting at first as it may slightly change the taste and texture of the final product.
Conclusion
Although olive oil and other oils are a great way to enhance the flavor of our food, it is not a necessary component for everyday cooking. They are loaded with unwanted calories, with little to no real value to our health. Finding a quality product is difficult for the consumer due to fraudulence in the industry, and unfavorable processing techniques.
Follow this handy guide to begin experiencing cooking in a whole new way. Scour the internet for plenty of oil-free recipes to add to your weekly rotation.
Start slow and try using the simple technique to stir fry vegetables at first. Then when that becomes your new normal, practice removing oil from other dishes. You may find you don't miss it, and actually begin to enjoy your new oil-free lifestyle!