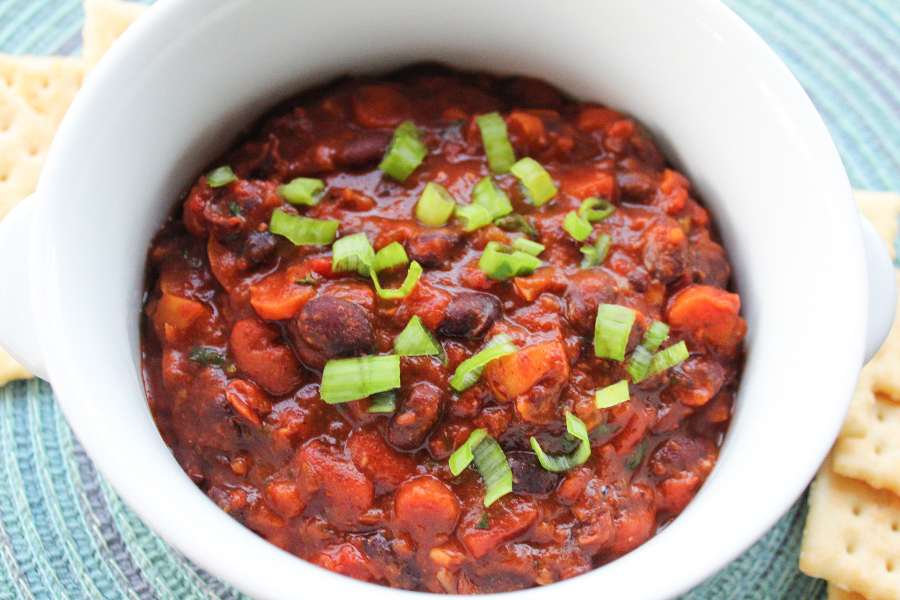 This is by far the best vegan chili I have ever made. It's flavorful, healthy, and hearty enough to satisfy even your pickiest meat eater. I found this recipe a few years ago before I started cooking plant-based meals regularly. I had no idea what to serve my out of town vegan guests, but I figured chili would be a safe bet.
After trying other vegetarian chili recipes in the past that were only so-so, I didn't have very high expectations. Thankfully this recipe did not disappoint! I still make this at least twice a month and will often experiment with some of the ingredients. Here is my take on this recipe. Hope you like it too!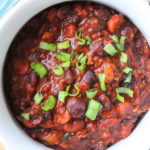 Print Recipe
Perfect Vegan Chili
This low calorie vegan chili is a favorite in my household. Serve with vegan cornbread for the ultimate Fall comfort food.
Ingredients
1

cup

red onion, chopped

1

cup

carrots, sliced thin or chopped

1

cup

red or green bell pepper, chopped

1

tbsp

fresh or pickled jalapeno, diced

(optional)

3-4

cloves

garlic, minced

1-2

tsp

olive oil

1

tsp

salt

2

tbsp

chili powder

2

tsp

cumin

1

tsp

smoked paprika

1

tsp

Chipotle chili pepper (sub for another tsp smoked paprika if not on hand)

2

tsp

oregano

1-2

dashes

cayenne pepper

(optional, for added heat)

1

bay leaf

3

cans

beans, drained and rinsed (combination of black, pinto, kidney, or garbanzo)

(*original recipe states 2 cans black beans, 1 can pinto; I use this combo or whatever I have on hand always works too)

2

cans

petite diced tomatoes

2 1/2

cups

vegetable broth

1

large handful

cilantro leaves, chopped
Instructions
Heat olive oil in large pot over medium high heat. Add chopped onion, carrots, bell pepper, and jalapeno. Saute for a few minutes to soften veggies. Stir in minced garlic and cook until fragrant (about 30 seconds).

Sprinkle all spices (except bay leaf) over veggies and stir to combine. Allow to cook for a minute or so more. Stir in vegetable broth, diced tomatoes, beans, and bay leaf. Bring to a boil, then allow to simmer for about 30 – 40 minutes stirring occasionally.

Discard bay leaf. Put about 1½ cups of the vegan chili in a blender or food processor. Pulse until smooth. Pour back into pot of chili and stir to combine. (This allows for a nice hearty texture that is thick, without having to add anything extra to achieve it.)

Stir in chopped cilantro. Serve and enjoy with your favorite chili toppings! Suggestions include vegan sour cream, vegan grated cheese, sliced green onion, or jalapeno slices.
Notes
Nutrition Information: Recipe yields: 4 servings, Serving size: 1.5 cups, Calories: 322, Carbohydrates: 57g, Protein: 18g, Fat: 4g, Saturated Fat: 0.7g, Fiber: 22g, Sugar: 3g, Cholesterol: 0mg, Sodium: 210mg 
**Please note: These nutrition facts are provided as an estimate and may vary depending on your ingredients. Check product labels or use an online calculator for additional accuracy.