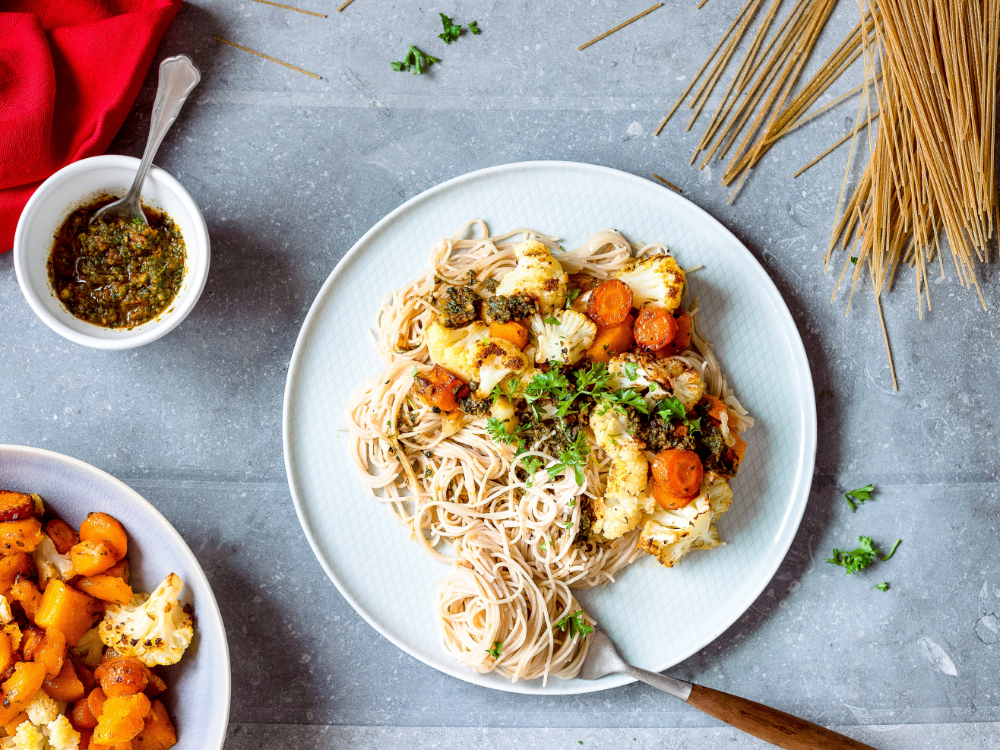 If you'd like to shed a few pounds but find it difficult to track your food or calorie intake, learning how to maximize your calories is a great tool to help you achieve your weight loss goals. Paying attention to calorie density in foods may allow you to eat more, stay full longer, and continue to lose weight without counting calories.
Although the number of calories we consume matters. Where those calories come from is just as important when it comes to weight management. (Remember, calories are just a measurement of the amount of energy a food has.)
All foods contain calories, but some are more calorie dense than others. Calorie density refers to the amount of calories a food has relative to its weight. High calorie dense foods contain a large number of calories in a small amount of food. For example, processed foods that are high in added sugar and fats have a high calorie density.
Low calorie dense foods have a much lower number of calories per gram. In other words, they take up more space in your stomach with fewer calories consumed. An ounce of cheese (about the size of a pair of dice) is around 114 calories, while three cups of steamed broccoli is about 93. It's easy to see that the broccoli takes up far more space than the cheese and helps to create that feeling of fullness.
Focusing on eating less calorie dense foods allows us to eat more without worrying so much about the calorie content of our food. These are also the foods that just so happen to be more nutrient rich, providing us with essential vitamins and minerals for optimal health.
By consuming more whole foods (less processed), more fruits and vegetables (including starchy vegetables), more whole grains, and lean protein (beans, legumes, and lean meat) you can maximize your calorie intake and feel satisfied and full long after you eat without counting calories.There are several easy ways you can do this while still enjoying the food you love.
Here are some tips on how to maximize your calories for weight loss:
Focus on vegetables at mealtimes.
Vegetables are low in calories, satiating, and extremely healthy for you. This is the number one way to cut back on calories and feel satisfied longer.
Non-starchy vegetables should make up a good portion of your daily calories. Use your plate as a guide to maximize weight loss. Fill half your plate with non-starchy vegetables at mealtimes. The other half should be composed of starchy vegetables, whole grains and lean protein. If you go for "seconds", continue using this as a rule of thumb, filling half your plate with vegetables.
There are a variety of ways to prepare vegetables that can make them more palatable. My favorite methods include roasting, grilling, and air frying. Season them well with your favorite spices and try not to use cooking oil or butter. Oil and butter are very calorie dense (one tbsp of olive oil yields about 120 calories) so use them sparingly.
Get creative in finding other ways to incorporate them in your meals. Toss pasta with grapes tomatoes, broccoli, zucchini, or asparagus. Add plenty of vegetables to your soups. Make sandwiches and wraps filled with leafy greens, tomatoes, red peppers, and cucumbers. Start cooking more plant-based meals, making vegetables a large part of the main course, instead of just a side dish.
Don't forget about starchy vegetables! Potatoes, corn, sweet potatoes, winter squash, and parsnips are low calorie foods that can (and should) have a large presence on your plate. When using your plate as a guide, these should be considered a starchy food and be placed opposite of your non-starchy vegetables, along with any grains or protein.
Potatoes have gotten a bad reputation over the years unfortunately. This is probably due to the fact that they are often associated with high fat foods like french fries, and potato chips. The truth is, potatoes are a low calorie dense food, yielding only about 161 calories for a medium baked potato (with skin). They are also very filling and can be prepared in numerous delicious ways, even without oil.
Fill up on fruit.
Fruit is another good low calorie dense food option. You can incorporate fruit in your diet by including a small bowl of it with your meals. This can help to reduce calories and fill you up.
Snack on fruit between meals or for dessert. A good fruit snack might be apple slices with a tablespoon of nut butter, or fresh fruit smoothies with oat or nut milk. Frozen fruit or a sliced banana with a bit of whipped topping and a sprinkle of dark chocolate chips makes a satisfying dessert.
Go oil-free in your cooking.
One of the biggest ways to reduce calories is to cut back on using oil and butter.
Although there are some oils that have health benefits, cooking oil can really pack a punch when it comes to calorie content. One tablespoon has around 120 calories, and butter has about 100 per tbsp. There are several techniques when it comes to oil-free cooking, and plenty of recipes around the web. Learning how to cook without oil is simple. Find my oil-free cooking tips here.
Start your meals with a salad or low calorie vegetable soup and eat that first.
If you are having trouble regularly incorporating vegetables into your meals, try just having a large salad or bowl of vegetable soup before you eat anything else.
Stick to low fat, low calorie dressing, add plenty of tasty vegetables, and go easy on salad toppers such as nuts and croutons.
There are many types of vegetable soups available to buy at your local grocery store. Or you can plan ahead and make your own. The idea is to fill up on salad or soup first to help prevent overeating the higher calorie foods at mealtimes.
Switch to whole grains.
Making the switch to whole grains from refined breads and pastas gives you the most bang for your buck when it comes to calories and nutrition. Aside from being better for you, they offer more in the way of fiber than refined grains. Fiber takes up more space in your stomach and is digested slower, helping to keep you full longer.
So if you love pasta, switch to whole grain pasta. If you can't manage to let go of bread, try whole wheat or whole grain varieties. Other wonderfully filling grains include quinoa, barley, brown rice, and oats.
Opt for lean protein sources.
Lean protein has less calories overall due to a lower fat content. Lean meats, fish, beans & legumes, and tofu are all good lean protein sources. Beans and legumes contain a lot of filling fiber. Lean meats and poultry are better for you than fattier cuts and will have less calories per pound.
Stick to unprocessed, whole foods.
Processed foods tend to be high in added fats and sugar. Additionally most of the fiber is taken out, meaning it will lack the ability to take up more space in your stomach and help you feel full.
Choose whole, unprocessed foods, or minimally processed (the fewer ingredients, the better). These are foods that are free of additives, preservatives, and added sodium making them healthier for you overall. You are also less likely to overeat whole foods or foods that you prepare from scratch.
Eat lighter versions of your favorite foods.
Many of your favorite recipes can be tweaked to a lower calorie version. A quick google search of your favorite recipes using terms such as light, healthy, or low calorie will bring up plenty of web results. Finding recipes that list the nutrition content is even sweeter. A few of my favorite go-to sites are Cooking Light, Skinnytaste, and Eating Well.
Following these simple tips to help maximize your calorie intake can allow you more freedom to enjoy nutritious food without obsessing about your diet.