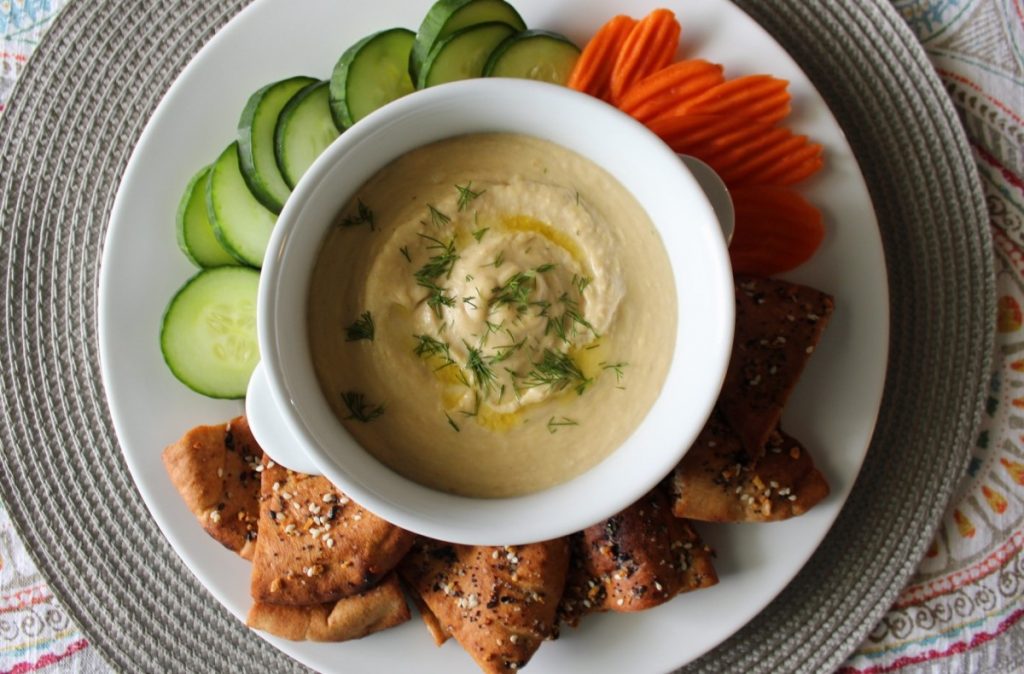 Okay, I think I officially found my new favorite way to eat hummus. Warm, with crusty, fresh from the oven pita chips.
If you've never had warm hummus before, you'll be pleasantly surprised about how good it is. Especially if you're on a dairy-free diet. The consistency and flavor is surprisingly similar to a warm, cheesy bean dip.
This insanely delicious dip with a basket of warm baked pita chips is the perfect snack when you want to indulge a little, but still eat foods that will nourish your body.
So how did I happen upon this unique way of making hummus? I have a sister who is a vegan and she introduced me to this recipe when she came for a visit here about a month ago. She even took it a step further and used said hummus to make a garlic dill dip for a salad.
But let's give credit where credit is due. My sister has been a devout follower of the Minimalist Baker for awhile and there she stumbled upon this recipe and many other vegan recipes that are amazing and not super complicated.
I've made this several times now and it's so good I had to share. This is the one and only time I've EVER liked homemade hummus. And I've tried. Many times. But nothing seemed to beat the kind I buy at the grocery store.
Just to be clear, this is just as great chilled, but there's something about when it's fresh and hot that has me oohing and aahing with every bite.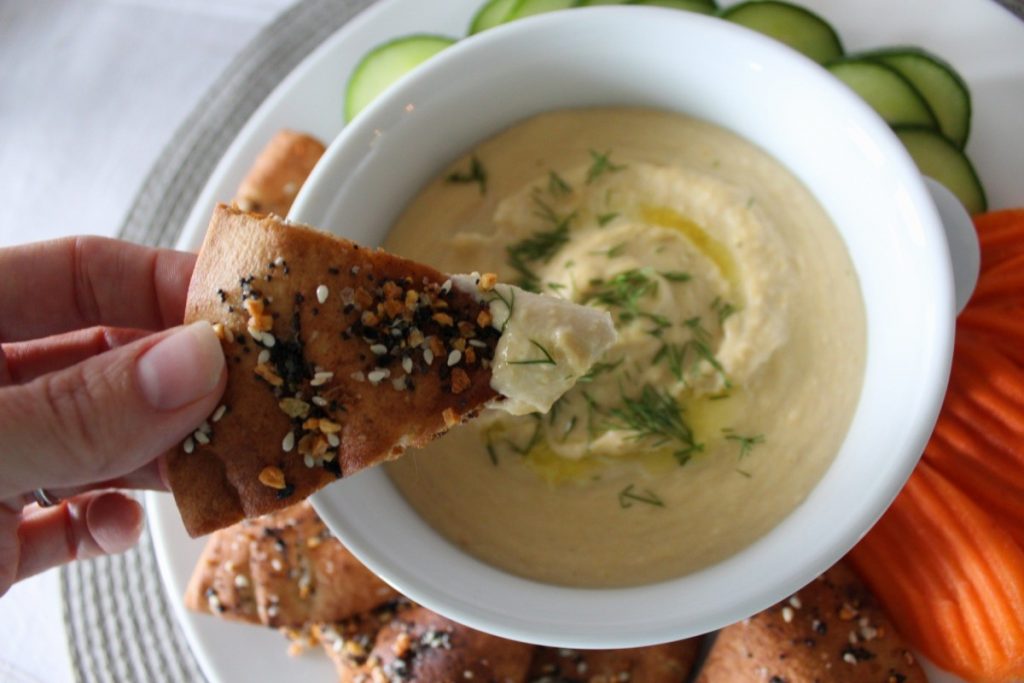 Veggies and hummus are always a go to when I'm trying to find a quick, healthy snack, but sometimes I need something salty with a crunch. Instead of buying a bag of refined pita chips, I buy a package of whole wheat pita bread and make my own pita chips out of it.
I like to top them with Trader Joe's Everything But the Bagel Sesame Seasoning. Mix the seasoning right in with a couple tablespoons of olive oil, and slather each pita wedge with the stuff. Or to make it lighter, spread a thin layer (or spray) the wedges with olive oil and sprinkle the seasoning on top. You can also make them oil-free by basting a thin layer of vegetable broth on each wedge before sprinkling on your seasoning. They bake up nice and crisp, and are far superior to packaged pita chips in my opinion.
The secret to this recipe is what makes it stand out from the others. You heat a can of chickpeas (undrained) and garlic together in the microwave (or stove top). Then process it with all the other ingredients and voila`. The most amazing hummus I've ever had is served. Quick and easy.
Warm Hummus and Baked Pita Chips
Delicious hummus (Minimalist Baker) with semi-homemade whole wheat pita chips makes an indulgent, yet healthy snack.
Ingredients
3 or more

loaves

whole wheat pita bread, homemade or store bought

3

tbsp

extra virgin olive oil, divided (1 tbsp for hummus, 2 for pita chips)

1

tbsp

Trader Joe's Everything but the Bagel Sesame Seasoning or whatever seasoning you have on hand

1

15 oz

can Garbanzo Beans (chick peas) undrained

½

cup

tahini

2

tbsp

lemon juice, fresh squeezed or bottled

2

cloves

garlic

¾

tsp

sea salt
Instructions
For the Pita Chips:
Preheat oven to 400 degrees. Using a pizza cutter, cut each pita bread loaf into 8 triangular wedges. Arrange them in a single layer on an ungreased baking sheet.

Pour 2 tbsp of the olive oil into a small bowl and mix in 1 tbsp of Everything But the Bagel Sesame Seasoning. Use a pastry brush and baste each wedge generously. (Alternatively, you can brush the tops with olive oil or use a spray of cooking spray, then sprinkle the tops with bagel seasoning or whatever seasoning you have on hand.)

Bake in preheated oven for 6-7 minutes. Allow to cool for a few minutes before serving with the yummy hummus you whipped up while they were baking!
For the Hummus:
Dump 1 can garbanzo beans (undrained; you need the juice!) into a microwave safe bowl. Add the garlic. Microwave for 4 ½ minutes.

Carefully remove bowl from microwave. Dump mixture into the bowl of a food processor or blender. Add tahini, lemon juice, and salt. Blend or puree until smooth, slowly drizzling in the olive oil as it goes.

Serve warm with your freshly baked pita chips (my personal favorite way to eat it), or refrigerate for a couple hours for an amazingly flavorful classic hummus dip!