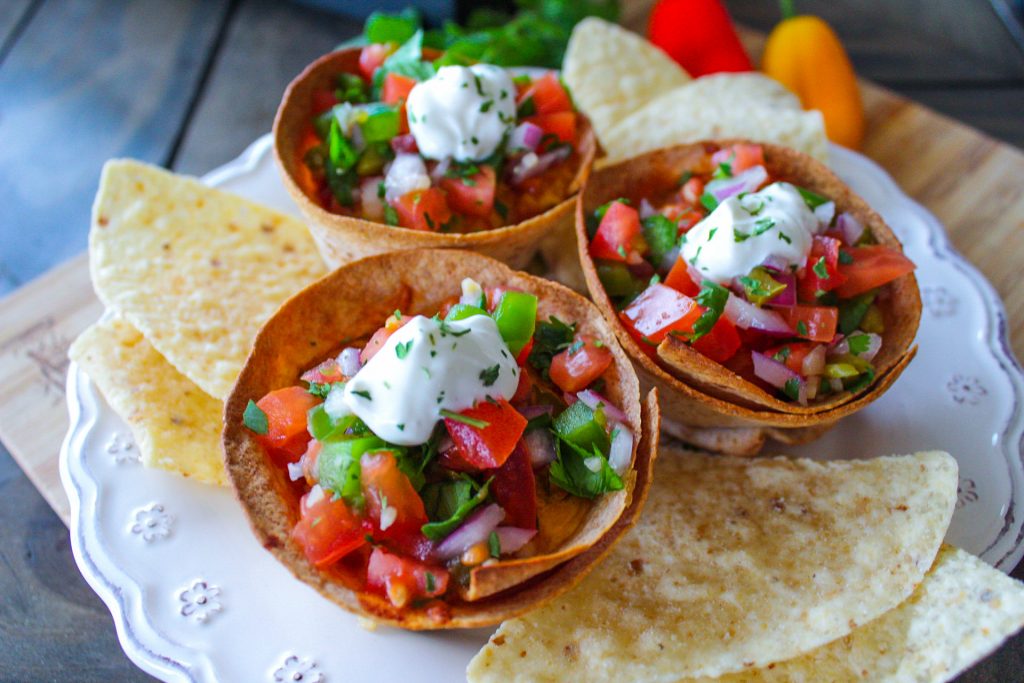 As a mom of three, one of my biggest challenges when I began to cook more plant-based meals for my family was to find something that everyone in my household would eat. Two out of three of my children are very picky eaters.
When I first started making this recipe from Taste of Home in it's original form last year, it was not the biggest hit with my kids. I also had a tough time finding canned lentils, so I decided to try pinto beans instead.
This was the change my family needed. Along with a few other tweaks.
For the taco cups, you'll need a 12-cup muffin pan. If you go with a non-stick pan, you should be okay not greasing it. If necessary, grease or spray a lighting coat of cooking spray into each cup.
The easiest type of flour tortillas to use are the mini sized ones (street taco size; preferably whole wheat if you can find them). If you have trouble shaping the tortillas to fit inside the cup, heating them for a few seconds on a non-stick pan or quickly warming them in the microwave will make them more malleable.
If using the larger tortillas like I often do (whole wheat), cut them in half and use one half in each muffin cup. I fit them in by folding the cut side upward, then shaping them like a cone and folding the bottom inward.
For a gluten free option, try corn or coconut tortillas. Just make sure to heat them first so they don't fall apart when you are shaping them. Although they are more difficult to work with, I have used corn tortillas before and they turned out fine.
My Fresh Pico de Gallo is usually thrown together quickly with a few simple ingredients, but I have also bought it prepared from the store. I've even used chunky salsa when that was all I had on hand, however homemade pico de gallo is my preference.
As for enchilada sauce, store-bought makes this a quick and easy weeknight meal, but I've been known to make it from scratch. Taco seasoning is easy to buy, but feel free to add your own version of Mexican inspired spices from your pantry.
Vegetarian Taco Cups
This fun take on tacos is a great way to introduce more meatless, kid-friendly meals into your family's rotation.
Ingredients
12

mini flour tortillas (street taco size or 6 fajita size cut in half; preferably whole wheat)

1

cup

cooked brown rice (or quinoa)

1

15 oz. can

pinto beans (drained and rinsed)

½

cup

enchilada sauce (homemade or store-bought)

¾

cup

Pico de Gallo (Recipe linked below)

2

tbsp

taco seasoning

1½

cups

shredded cheddar cheese (divided)
Optional Toppings:
sour cream

green onion

salsa

cilantro
Instructions
Preheat oven to 400 degrees. Grease or spray a 12 cup muffin tin with cooking spray. Gently shape mini tortillas to fit into each cup. (If difficult, heat in microwave a few seconds to make them more malleable. If using tortilla halves, gently place by bringing the sides together into a cone shape and folding in.)

In a large bowl combine beans, enchilada sauce, pico de gallo (Recipe here), taco seasoning, and half the cheddar cheese (¾ cup).

Divide brown rice evenly into each cup. (About 1 heaping tbsp per cup.) Then, divide bean mixture evenly in each cup.

Top each with remaining cheddar cheese and bake for 15 to 20 min.

Allow to cool for a few minutes, then serve with your favorite toppings (I use my leftover pico de gallo and sour cream) and enjoy!
Notes
Nutrition Information: Serving size: 1 taco cup, Calories: 157, Carbohydrates: 25g, Protein: 7g, Fat: 4.5g, Saturated Fat: 1.8g, Fiber: 4g, Sugar: 1.1g, Cholesterol: 9mg, Sodium: 597mg 
**Please note: These nutrition facts are provided as an estimate and may vary depending on your ingredients. Check product labels or use an online calculator for additional accuracy.