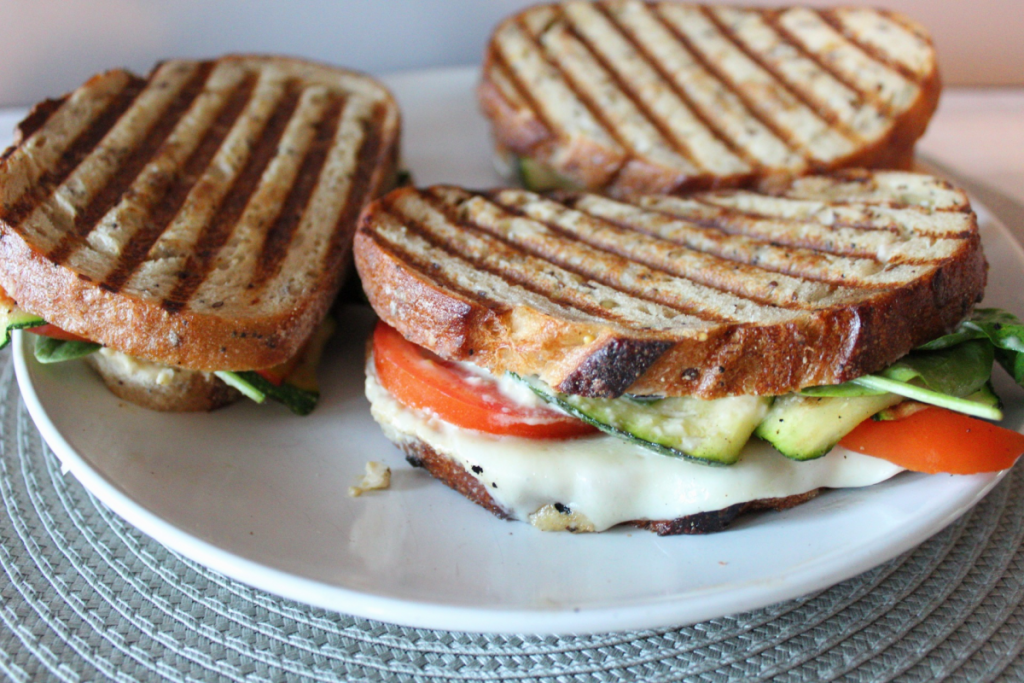 Have you ever tried Jason's Deli? I had never heard of it until I moved to Southwest Louisiana. My friend is a big fan of their salads when she orders from the pick up menu. I appreciate that they offer more plant-based and vegetarian options when I eat out.
The past couple times I went there I ordered the "Zucchini Grillini". It's topped with roasted veggies, hummus, and cheese. It's good. So good I decided to try and copy it at home.
My version is very similar with just a few minor changes:
Instead of red pepper hummus I use this homemade hummus recipe that is my all time favorite. Then I finish it off Panini style on my grill pan!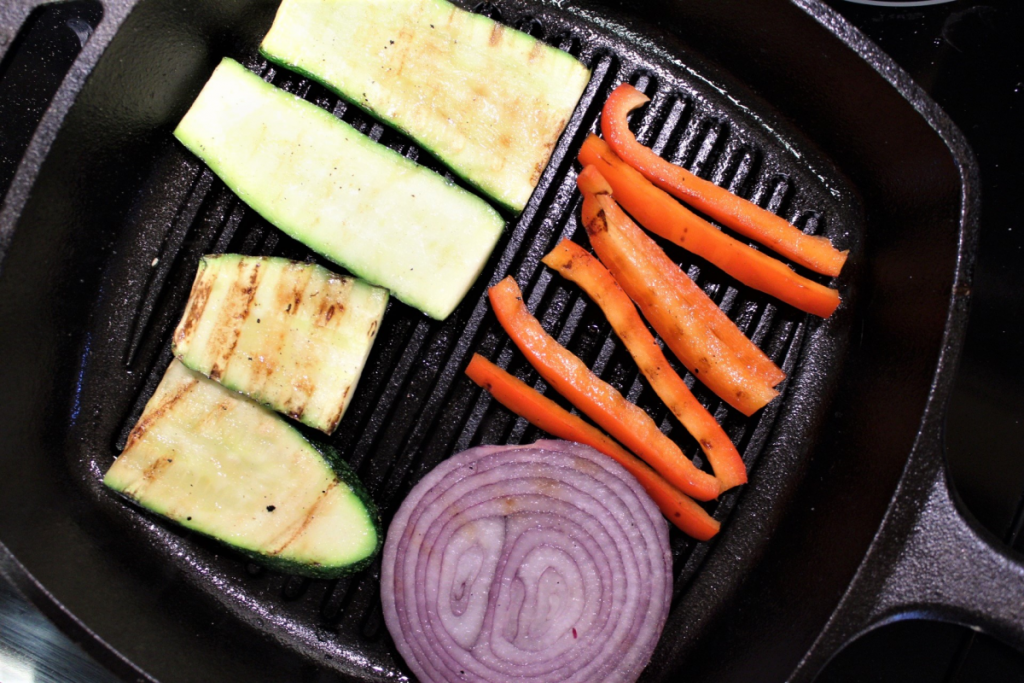 On a related note, I bought this grill pan recently and it's pretty much changed my life. The extreme heat and humidity here in Louisiana often feels too intense for me to grill outside. My cast iron grill pan is the perfect alternative.
Thank you to Pioneer Woman for opening my eyes to this wonderful invention when I wanted to make her Grilled Veggie Enchiladas, then also decided I need to make paninis on a regular basis. Now I use it year round without having to go out and start the grill.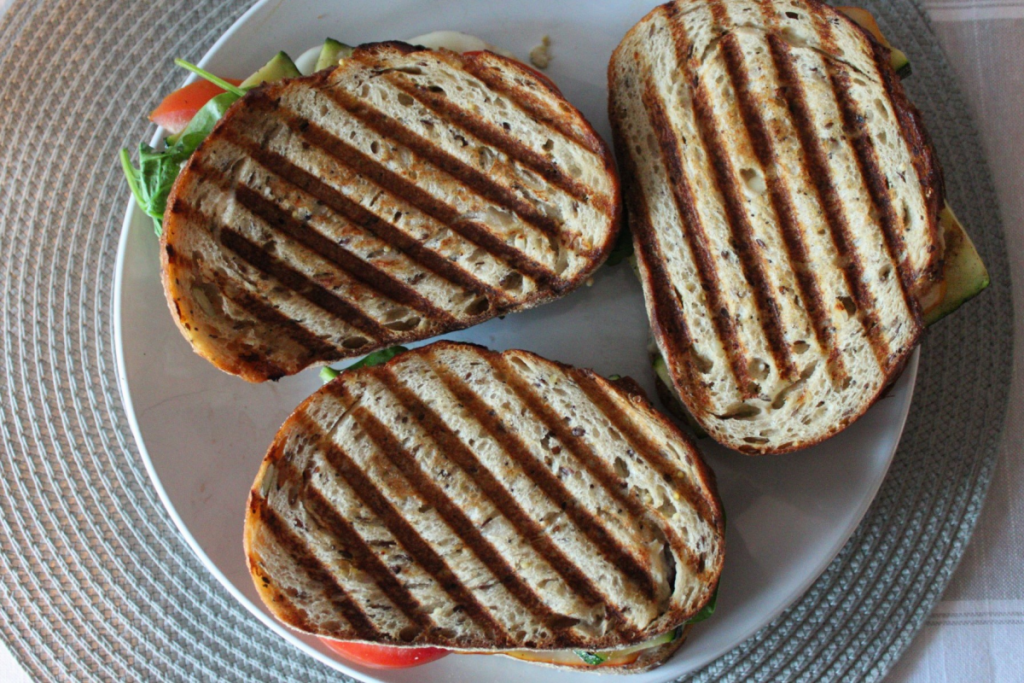 Spinach Zucchini Paninis
Copy-cat version of Jason's Deli 'Zucchini Grillini'.
Ingredients
4

slices

multi-grain sandwich bread

1

medium

zucchini, sliced lengthwise

1 – 2

roma tomatoes, sliced

½

cup

pitted kalamata olives, halved

1 – 2

handfuls

fresh spinach

4 – 6

tbsp

fresh hummus, homemade or store-bought

½

small

red bell pepper, sliced

½

small

red onion, sliced into rings

2

slices

Havarti or Muenster cheese

avocado oil, for grill pan or skillet

Salt, to taste
Instructions
Preheat grill pan (or other method for cooking vegetables, see notes) on medium high heat. Once heated turn temperature down to about medium and brush grill pan with avocado oil.

Grill zucchini slices, red onion, and sliced red bell pepper for about 4-7 minutes per side until they are tender. Sprinkle with a bit of salt while they are cooking. Remove from heat to a plate and set aside. Keep grill pan hot to make paninis.

Panini Assembly: Spread 1 or more tbsp of hummus onto each of the four slices of multigrain bread. Layer two slices of multigrain bread with the following ingredients in this order: kalamata olive halves (on top of the hummus), red bell pepper slices, red onion, spinach leaves, tomato slices, zucchini, and cheese. Finally, top with the remaining two slices of multigrain bread (hummus side down over the cheese).

Brush grill pan with more avocado oil. Carefully move one of your assembled sandwiches to your prepared grill pan (or panini press). Using the back of a heavy frying pan, press the top of the sandwich down firmly for a minute or two. Check to see if it looks done (has good grill lines) and carefully flip sandwich over to cook the other side, again using a heavy frying pan to press the sandwich firmly for a couple minutes.

Once done, remove to a plate and allow to cool for a couple minutes. Add more avocado oil to the grill pan if necessary and repeat the process with other sandwich.
Notes
Alternative methods to cooking vegetables: saute in a bit of oil on a skillet, roast veggies in the oven on a cookie sheet, or grill them on an outdoor grill.
Alternative ways to make the Panini: use a Panini press, grill on an outdoor grill, or grill on an oiled skillet.
Ingredient measurements may be adjusted to preference, and to accommodate the size of the bread slices used.