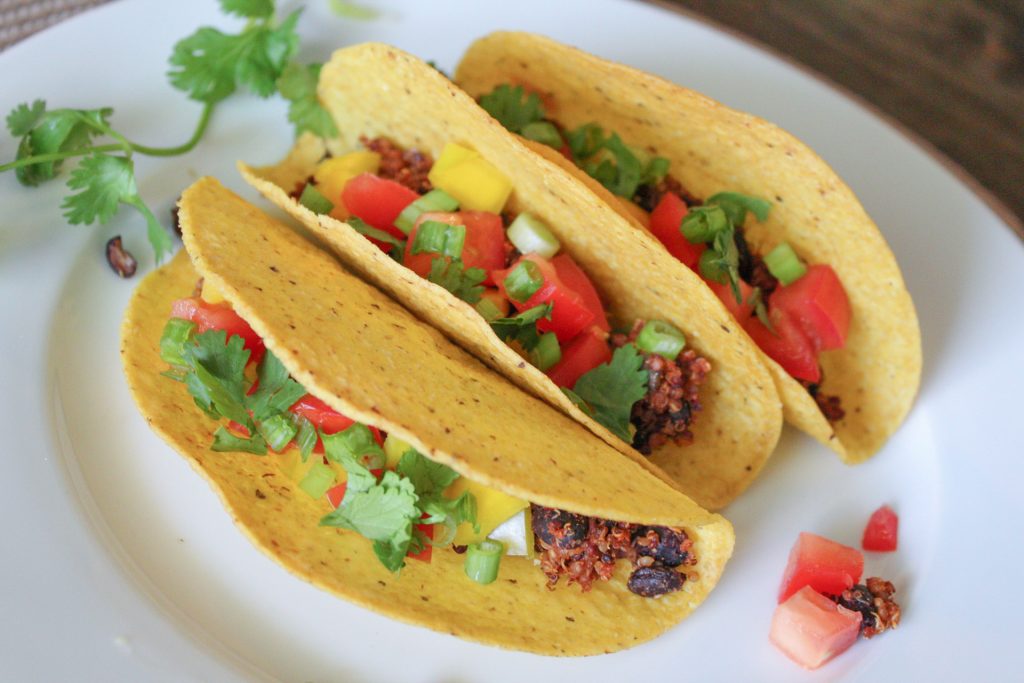 I discovered this surprisingly good alternative to beef tacos while perusing through recipes online. Although I adore meaty beef tacos, I was intrigued when I came across this recipe by the Minimalist Baker. This makes an excellent vegetarian option for taco "meat" in a crunchy taco.
I was pretty impressed with how good these turned out the first time I made them. Since then I've developed my own variation of this recipe that has made it into my regular meal rotation. My kids, however, are on the fence with this one and still prefer traditional beef tacos. So for now I just make a batch of these and batch of beef tacos to keep everyone happy.
If you've never had quinoa, it is often described as a "superfood". This is because it is naturally gluten-free, low in fat, and is a complete protein meaning it contains all nine amino acids that the body needs. That makes these a healthy alternative to traditional beef tacos. Try to find taco shells that list as few ingredients as possible, or make your own if you are trying to limit your processed food intake.
The trick for attaining the best texture is to spread the filling on a baking sheet and bake it for 20 minutes prior to using it in the tacos. This ensures the filling isn't too "wet" and the edges have had time to crisp up a bit.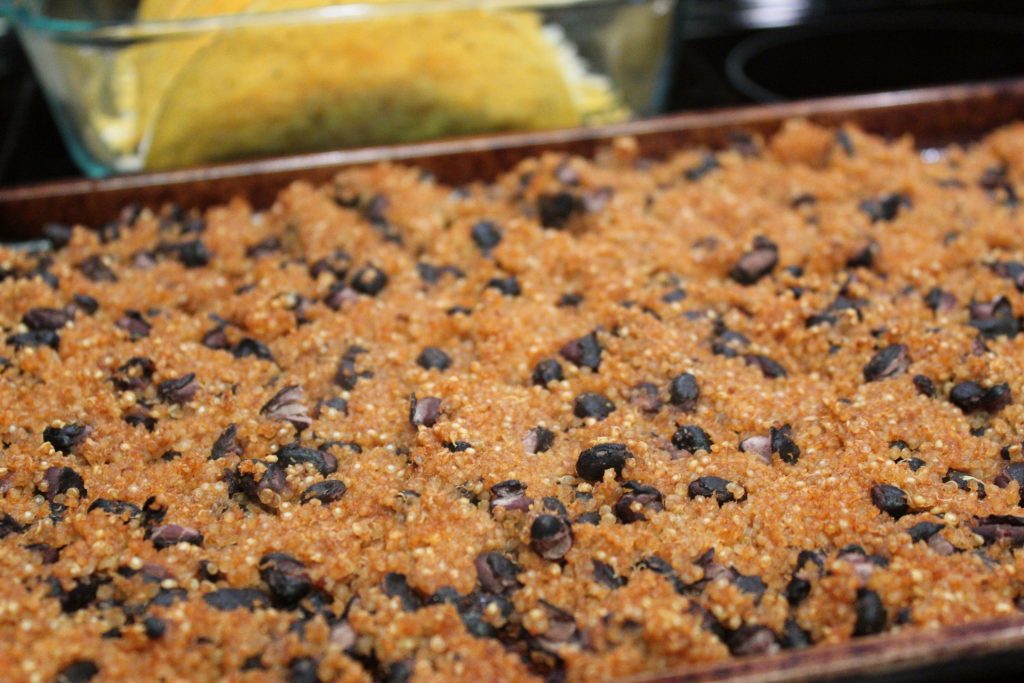 I also have a special method for preventing hard taco shells from breaking while eating. No one likes to bite into a taco and have the whole thing fall apart on them.
Instead of toasting the shells on a cookie sheet in the oven (as per the usual method), I fill the shells with filling and cheese and bake them in a glass baking dish.
Baking them pre-filled ensures the tacos stay together and are easy to pick up. They remain crispy, plus you have the added benefit of having the cheese melt on top while they bake.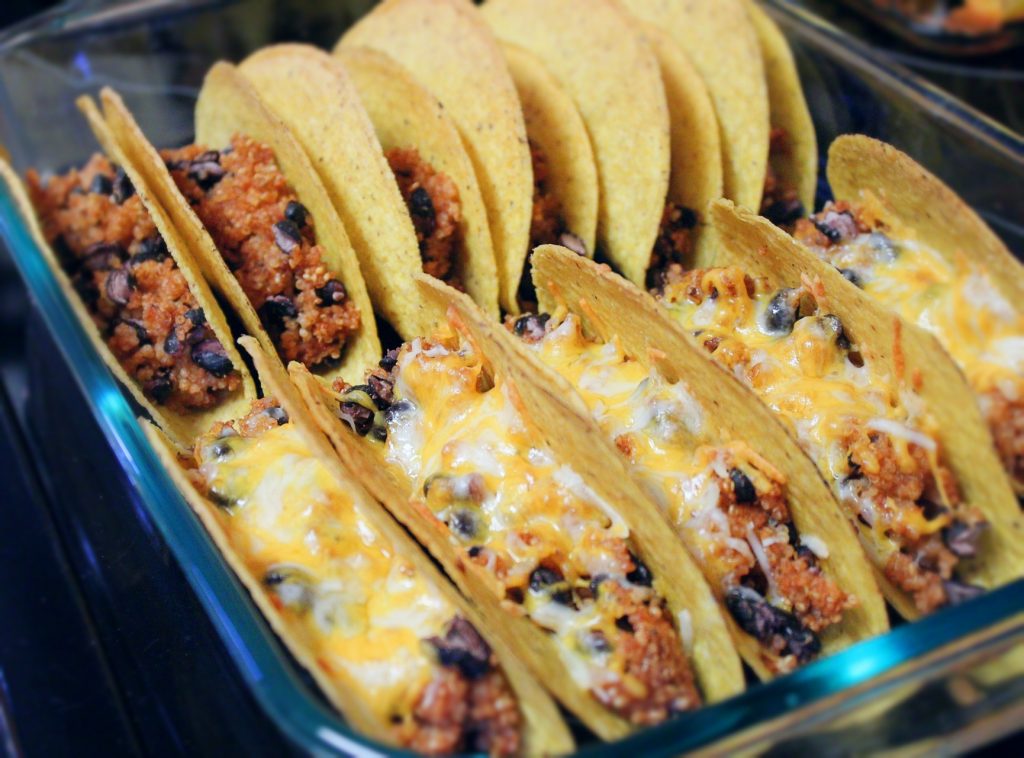 This recipe is great if you're a vegetarian looking for a yummy meat substitute for tacos, enchiladas, or burritos. I often make a Buddha bowl with the leftover filling for lunch. You can make these vegan by omitting the cheese, or substituting it for vegan cheese.
Quinoa Black Bean Crunchy Tacos
A delicious, meatless take on crunchy hard-shell tacos.
Ingredients
1

cup

quinoa

1

14 oz.

can black beans (drained and rinsed)

3

tbsp

taco seasoning

1/2

cup

salsa

2

cups

shredded Cheddar or Monterey jack cheese

12

count

package of hard taco shells
Topping suggestions:
salsa

sour cream

shredded lettuce

diced tomatoes

hot sauce
Instructions
For taco "meat":
Cook quinoa according to package directions or use my method:

Heat a saucepan on medium. Meanwhile, rinse the quinoa in a small strainer. Dump into hot pan and allow the quinoa to toast for a few minutes stirring occasionally. Add 2 cups of water and sprinkle in some salt. Give it a stir and bring to a boil. Cover and lower temperature to medium low to allow it to simmer for 11 – 12 minutes or until all the water is absorbed. Remove from heat.

To cooked quinoa, add taco seasoning, salsa, and black beans. Mix well.

On a large baking sheet covered with parchment paper (or greased), spread quinoa black bean mixture out using a rubber spatula or the back of a wooden spoon. Place in preheated oven and bake for 20 minutes. (This will help create crispy edges for a more meat like texture.)
For taco assembly:
In the next step you will need a large casserole dish nearby to place your assembled tacos in. (I use a 9×13 glass Pyrex.)

Assemble tacos by adding approximately 2 or 3 rounded tbsp (use more or less depending on taco shell size) of quinoa black bean filling to a hard taco shell. Place taco in the casserole dish standing up (see picture above). Continue to assemble tacos until all 12 shells have been filled. (Store any leftover filling in the refrigerator for up to 4 days.)

Sprinkle 1 to 2 tbsp of shredded cheese into each of the 12 tacos. Bake at 400°F for 10 – 12 minutes or until shells are toasted. (For vegan tacos, leave out or use vegan cheese.)

Allow tacos to cool for a few minutes before serving. Serve with shredded lettuce, diced tomatoes, salsa, hot sauce, or sour cream.
Notes
Nutrition Information: (For taco "meat" only) Serving size: 3 rounded tbsp, Calories: 73 kcal, Fat: <1g, Saturated Fat: 0g, Cholesterol: 0mg, Carbohydrates: 13.6g, Fiber: 2g, Sugar: <1g, Protein: 3g  (Approximately 16 Servings taco "meat" per recipe.)
**Please note: Nutrition facts are provided as an estimate and may vary depending on your ingredients. Check product labels or use an online calculator for additional accuracy.