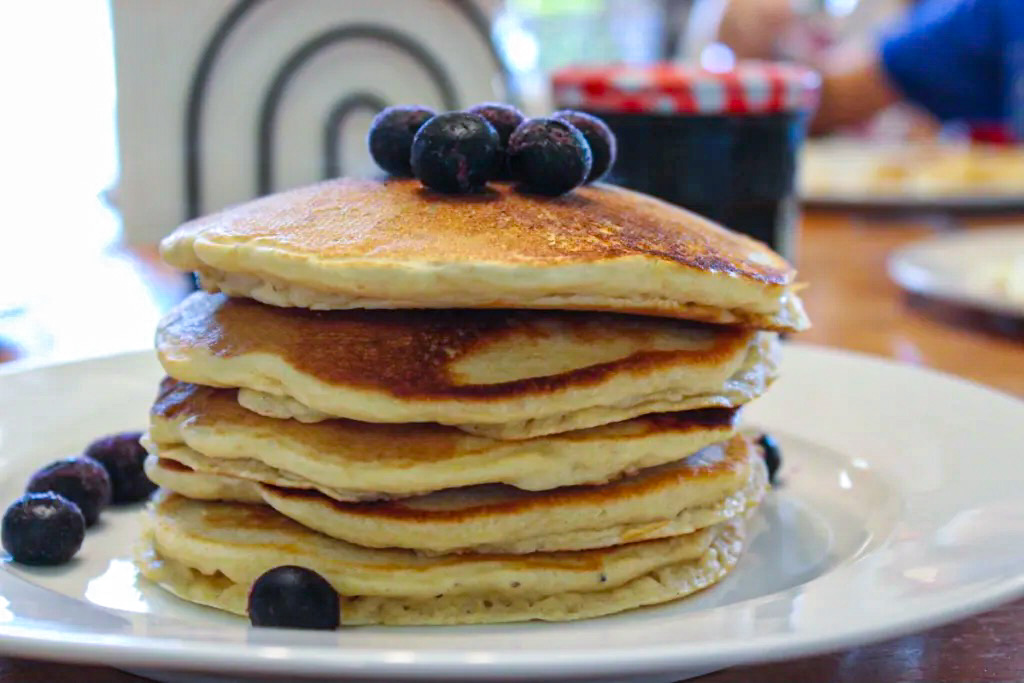 I found this pancake recipe on Allrecipes many moons ago and have played around with it a lot over the years regarding ingredients and method. I like to use two parts white whole wheat flour to one part unbleached all-purpose. The all-purpose flour helps them remain the perfect amount of fluffy while still adding the health benefits of whole wheat.
These are so yummy! We have them at least once a week for either a Saturday morning breakfast, or a weeknight breakfast for dinner!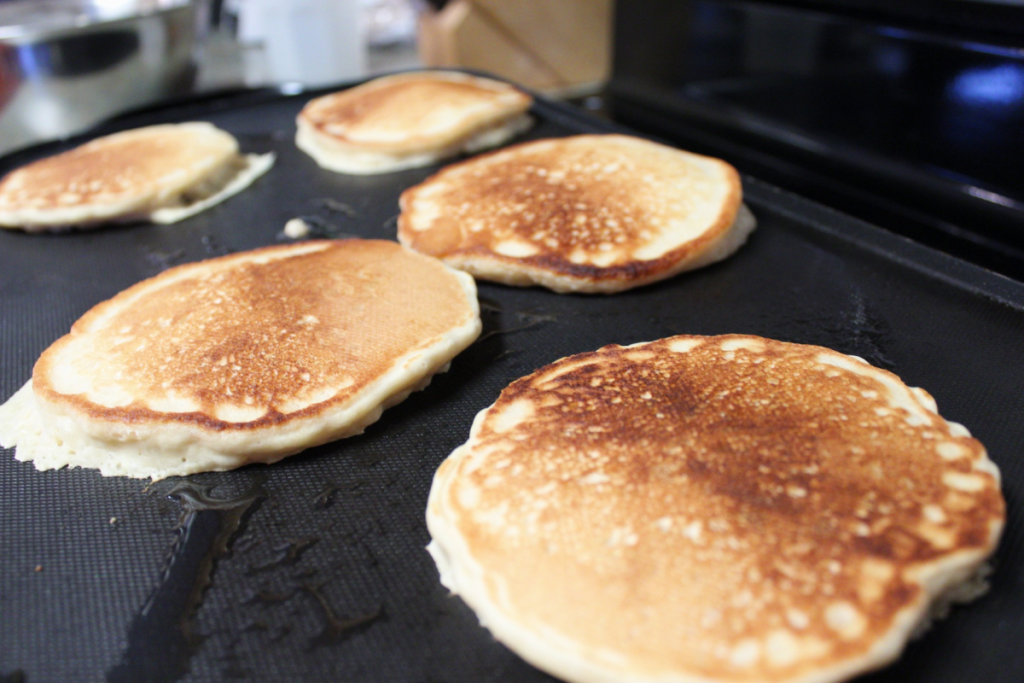 The secret to a fluffy pancake is in the lumps! (Actually it's more about not over mixing your batter in an attempt to get rid of the lumps.) As you'll see, this recipe is super lumpy! Lumps are okay and actually will yield fluffier pancakes when we try not to smooth them out. So trust the process, and the lumps!
A few things to note about the ingredients… Yes, I realize it sounds like a lot of butter, but remember that it really is only about 1 tsp of butter per pancake. And that's for a nice sized 5 inch pancake. If you'd like to cut back a bit on calories, you could use a light butter instead.
We've also made these using ONLY white whole wheat flour and they are still amazing (albeit slightly denser). Add walnuts or blueberries to the batter for an even grander healthy pancake!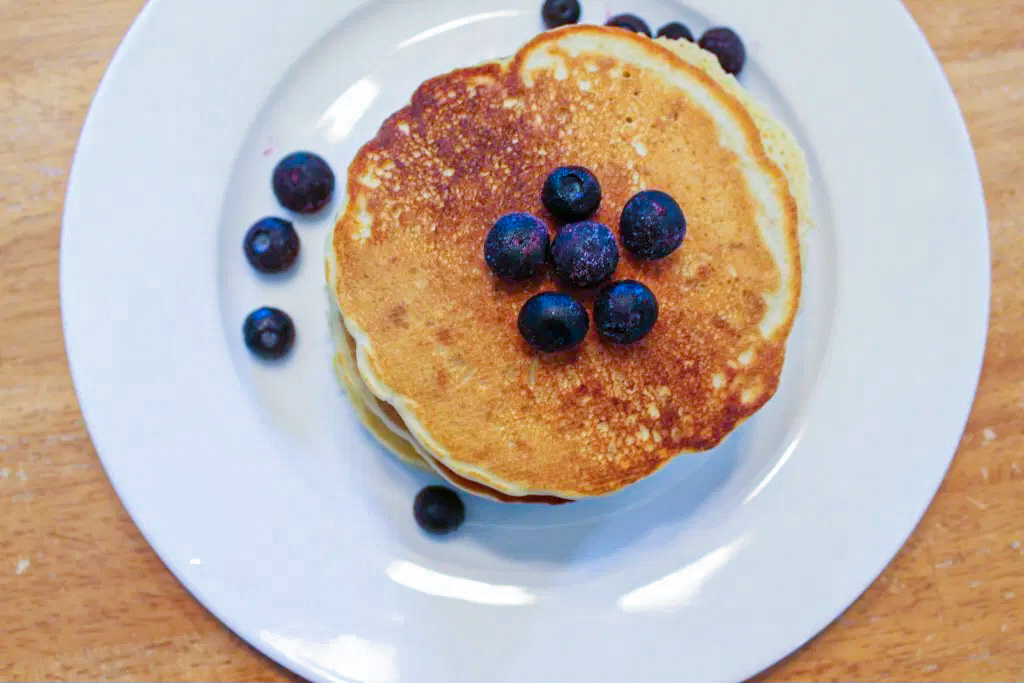 Fluffy Homestyle Wheat Pancakes
A simple classic pancake recipe your family will love!
Servings:
17
(5 inch) pancakes
Ingredients
2

cups

white whole wheat flour

1

cups

all-purpose or bread flour

2

tbsp

baking powder

1

tsp

salt

2

tbsp

maple syrup

2

eggs

6

tbsp

butter, melted

2 ½

cups

milk (plus more if needed)

1

tsp

vanilla

coconut oil (for griddle)

optional
Instructions
Preheat pancake griddle to 350° or large skillet on medium heat. (Adjust the temperature as needed; this is what I set my griddle to.)

In a large mixing bowl mix together dry ingredients (both flours, baking powder, and salt) with a wire spatula.

To dry ingredients add melted butter and eggs. Using a fork or wooden spoon, stir until wet ingredients are incorporated. (This dry mixture will be very lumpy, but the lumps should be on the smaller side.)

Measure milk into a large liquid measuring cup, add the vanilla and maple syrup to the milk. Slowly, little by little, pour a small amount (NOT ALL) of the milk into your flour mixture. Stir with a fork or wooden spoon. Pour a little more and stir again. Continue to do this until all milk is added, making sure to fully incorporate it each time. (Batter will be thick but runny, and still have lumps. This is a good thing. Not over mixing the batter is important to create fluffy pancakes!) **If needed add a tiny bit more milk in order to "thin" the batter a bit, but not more than 1 or 2 tablespoons.

Allow batter to rest for a minute or two. Put a small amount of coconut oil (if using) on your preheated griddle and spread evenly with pastry brush or spatula. Measure out ⅓ cup of batter for each pancake and pour onto preheated griddle.

Flip pancakes with a spatula once bubbles form and the bottoms look brown (use a spatula to slowly lift and check for doneness.) Continue cooking for a couple minutes until second side is browned. Remove to a plate and set aside until all pancakes are done.

Continue making pancakes in this fashion with the remaining batter. (Stacking pancakes on a plate on top of each other will keep the bottom ones warm as you go.) Enjoy with warm maple syrup, fruit topping, or your favorite jam or spread!

**Recipe yields about 17 pancakes (5" diameter).